Covid-19 update
Club re-opens 29 March
Update: 29 March 2021
The club has re-opened with all 9 courts available to book. We are virtually back to normal, with activities laid on for juniors, adult social sessions scheduled for Tuesdays, Thursday and Saturdays, adult team practices as well as coaching for groups and individuals.
Please observe the current Covid-19 guidance
---
Club to re-open 29 March
Update: 22 February 2021
The government has said outdoor tennis can resume on 29 March, including singles and doubles social play, 1:1 coaching and formally organised activity for groups, including group coaching (maximum group size and court ratios subject to confirmation).
---
PM orders lockdown, LTA says tennis clubs must close
Update: 4 January 2021
All tennis clubs must close, the Lawn Tennis Association (LTA) confirms after Prime Minister Boris Johnson ordered a new national lockdown.
---
Reading comes under Tier 4, indoor tennis banned
Update: 19 December 2020
Outdoor tennis allowed for singles, or doubles among families and bubbles.
Indoor tennis banned.
---
Reading comes under Tier 3, indoor tennis restricted further
Update: 17 December 2020
The LTA has published guidance on how restrictions affect tennis clubs - including ours in areas classified as Tier 3.
In summary, this is what's allowed:
Outdoors: Singles and doubles, coaching, organised activities, competitions.
Indoors: Adults from the same household or bubble; limited coaching.
---
Covid-19 update: See what tennis activity will be allowed from Wednesday 2 December
Update: 26 November 2020
The LTA has published guidance on how restrictions affect tennis clubs - including ours in areas classified as Tier 2 - from Wednesday 2 December.
In summary, this is what's allowed:
Outdoors: Singles and doubles, coaching, organised activities, competitions.
Indoors: Singles only for adults from different households; doubles for same households/bubble; 1:1 coaching.
---
Covid-19 update: Tennis clubs to close 5 November - 2 December
Update: 4 November 2020
The club will be closed from 5 November until 2 December after MPs endorsed a new lockdown to combat coronavirus.
The club management committee will follow the situation closely and inform members of any developments.
---
Covid-19 update: further relaxation of restrictions
19 June 2020
The club is gradually getting back to normal as lockdown restrictions ease, but please continue to observe government guidance on how to prevent the spread of the virus.
Singles and doubles play is permitted
Maintain social distancing and strict hygiene
Don't make physical contact - don't shake hands
Don't come to the club if you think you have the virus
Only play if you have booked (3 bookings a week per member so everyone gets a chance to play)
Do not linger at the club before or after your game
The toilets will be open from Monday 22 June onwards. Please wipe down any surfaces you touch
Coaching is available - please speak to the coaches
Some organised play is starting up again
Court 7 with the wall is now available for anyone to book.
Any queries, please email Tammy, our administrator on office@cavershamltc.co.uk
Covid-19 update: some restrictions relaxed
31 May 2020
The Lawn Tennis Association (LTA) issued new guidance for venues, players and coaches starting on Monday 1st June 2020.

Key aspects to be aware of are as follows:
Both singles play and doubles play is now permitted with people from outside of your household, as long as you remain 2 metres apart as far as possible - meaning that four people from different households can now play doubles!
 
Players do not now need to use their own marked tennis balls - however, if you choose to use shared balls then extra care must be taken to ensure you do not touch your face during play, and you should clean your hands before and immediately after finishing
 

Use alcohol gel after touching any court gates, fences, benches etc, and avoid doing so where possible


 

Coaching in groups of up to 6 (including the coach) will be permitted. GDTennis are looking closely at the coaching programme to assess which elements can return safely. They hope to have small groups starting from Monday 8th June 2020, however this will confirmed during the week ahead.
We strongly suggest that players and parents read the guidance notes in full as below.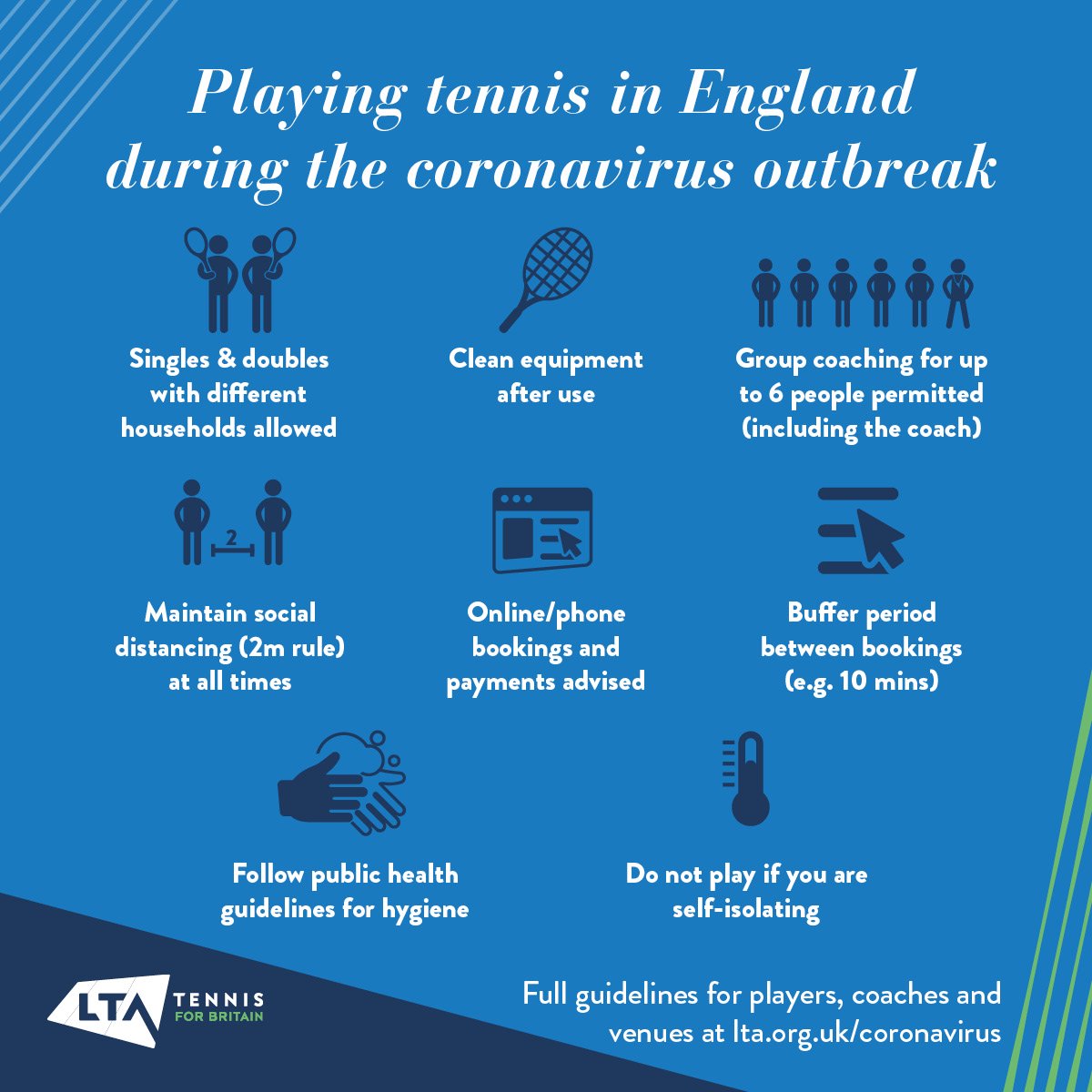 Update on facilities at Caversham LTC
Over the last week a group of committee members here at Caversham LTC have been conducting a review of the club re-opening which took place a couple of weeks ago. Below is an update along with any changes:
Play with non-members - provided they are from your household - is still permitted, however this is under constant review based on court utilisation and occupancy
Court booking system is proving a success and is still compulsory. Court utilisation has been 71% over the last week, so still plenty of slots available
Conversion of court 7 for Mini Tennis Red, and hitting wall will remain. The regular net will be reinstalled at mini tennis orange height for players of that age and standard, however the height cannot be adjusted.
Clubhouse, changing rooms and toilets - remain closed due to risk of surfaces and Covid-Secure cleaning requirements need planning and implementation
Ball machine - remains unavailable until further notice due to surface contact and cleaning requirements
Gates for courts 8/9 and 3/4 will be released from the tied positions and lock-pins removed/secured
Driveway gates should be opened and closed by first member in, and last member out retrospectively, using the code provided on their court booking confirmation email
Improved signage for First Aid and Court Booking to be added
Dome remains inflated as dismantling team from Belgium are unable to attend. We are currently in contact with other UK companies to try and find a solution.
---
BOOKING INSTRUCTIONS
If you would like to play you will need to book a court online - either via the web or an app.
Go to the club website https://cavershamltc.co.uk/ and then to BOOK. Then log in.
You will be limited to one session per day lasting up to 90 minutes.
Guests: Unfortunately no guests are allowed, unless they're from your household.
Once you've made your booking you will get a confirmation email. 
You can book the available courts for a game or if you wish book Court 7 to hit against the wall.
Download the ClubSpark Booker app here: Apple or  Android
If you can't access the booking system please email the office, and allow for some delay.
DO NOT COME TO THE CLUB WITHOUT A BOOKING